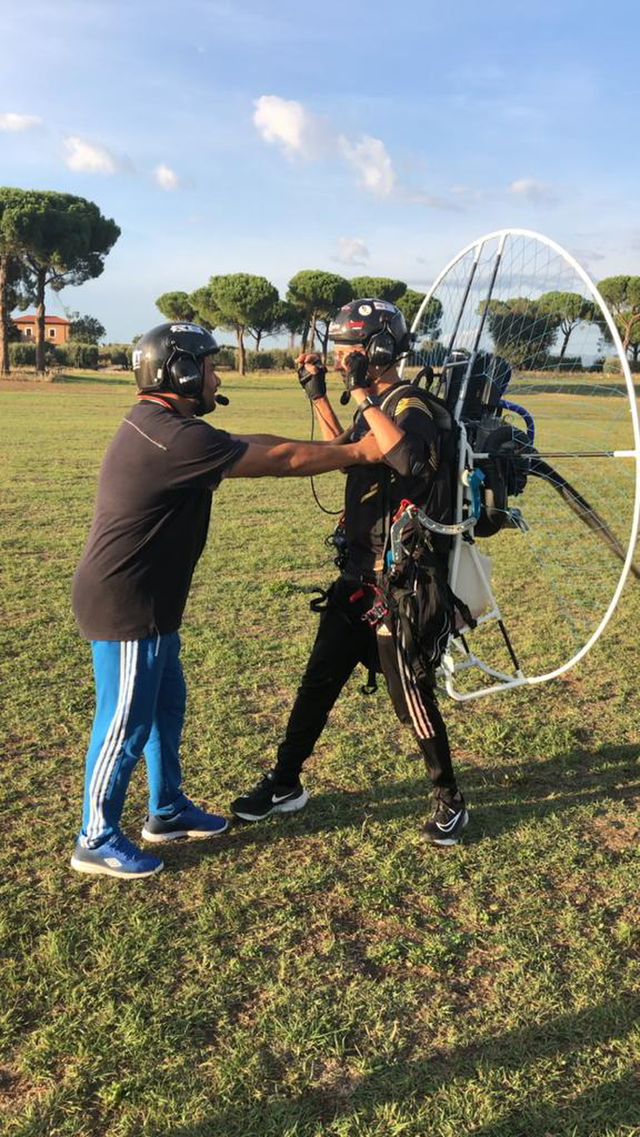 PPG Instructor workshop , Rome Italy, 03-09 11 2022 Manu Bonte (10914)
01 February 2023EDUCATION | paragliding powered paragliding
Ashref and his friends Younes and Wesam were flying PPG for almost 9 years in the beautiful skies of Libya, discovering the subtleties of the sport by themselves. With no official association taking care of the activity, they felt the necessity to professionalize themselves.

"We knew about APPI for a long time and we already held our paragliding pilot licenses, but that was not enough to promote the sport in our country. There was a need for an organization to structure how to teach and license pilots. We met Iraqi pilots who became paramotor instructors with Master Instructor Raffaele Benetti. We contacted Rafa and he organized for us a paramotor instructor workshop near Rome in October (Fly Roma airfield). The course given by Rafa was excellent. He has extensive experience in paramotoring, not only in the technical aspects but also in living with this sport. We successfully completed the workshop, and back to Libya we registered our two schools, ABRNI and JOUDAEEM, and issued our first two paramotor licenses in January, based on APPI's educational system. The pilots in Libya are happy, and we can clearly see improvements." Ashref says.

For Wesam: "Obtaining the instructor license was not easy. I put in my best effort until I achieved it. I learned so many things that I was previously unaware of: in the fields of safety, way to teach… I am so proud I achieved it. Thanks to the APPI educational system, i feel comfortable when it comes to teach PPG to a student, this is something solid I can stand on. For me it's the highest standard we can find in our sport."

Last word goes to the PPG master instructor Raffaele Benetti
"When those three guys contacted me, they were so enthusiastic, so ready to visit me straight from Libya, that I decided to organize this workshop just for them without delay. Throughout the course, we spent all our days together in the classroom and on the field, taking advantage of each minute of the excellent weather conditions we experienced in Rome that month of October. Their dedication and hard work during the course makes me incredibly proud to be an APPI Master and to be able to share our educational system with the world."

thumbnails