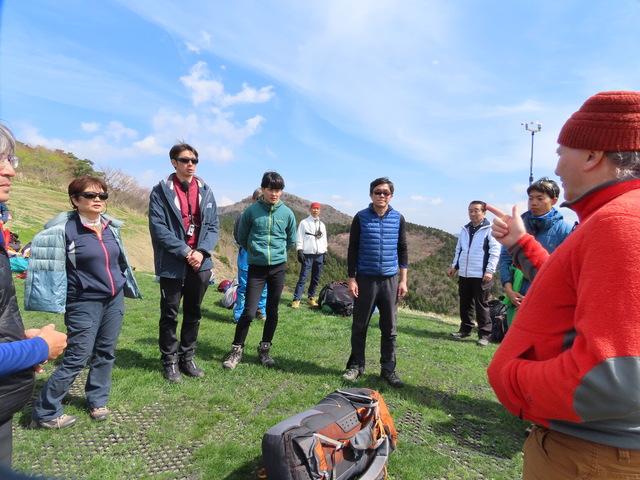 Pro Workshop XC instructor, Japan Manu Bonte (10914)
06 May 2023EDUCATION | paragliding
April 2023, an XC instructor workshop took place in Japan, given by Manu Bonte with Aerotact, on the superb site of the Coo airpark.

The magic formula: 3 top level instructors, 10 highly motivated pilots, spring conditions with a nice instability without low layer inversion, and this Japanese aerology so rich where breezes and winds of all intensities and all directions combine. Welcome to convergence paradise.

The XC instructor training starts with a solid preparation of the course. Identification of the needs and objectives of the pilots, preparation of the practical and theoretical contents, theory-practice articulation to allow a direct implementation on the field of the contents studied in class.

For the pilots, after the revision of the equipment (reserve , adjustments) the first step consisted in a fine-tuning of the method of forecasting the weather conditions and the elaboration of possible flight plans. Then a first cross country of 60 km was used as an observation round.
Naturally, particular attention is paid to practical application in the field: the ability to analyze the clues in detail, to adapt one's plans according to changing conditions, to ensure one's own safety and that of others, and to fly in a group.

Based on the detailed identification of the different phases of an XC flight, the theoretical and practical courses are developed according to the pilots' weak points. Performance improvement is treated phase by phase and post-flight analysis, with state-of-the-art tools such as Xcanalytics, is a first-rate aid.

All aspects of technique are worked on, including optimization in thermals and transition (optimal speed and favorable lines), the ability to regroup, etc., but also strategy, tactics and emotional management are studied.

In the end, the group leaves with an in-depth update of their theoretical knowledge, and also a box of tools ready for use. For example: a table of speeds to use according to the conditions, a structured weather forecast file, tools to analyze the tracks, an application to measure the polar of the paraglider, a table to rationalize the evaluation of the level of turbulence, a document of self-analysis etc...

Several nice flights in various conditions have allowed to put into practice the topics discussed, distances up to 70 km have been covered. There is no doubt that this group will enjoy meeting again in the air to continue to deepen the themes worked on.

Thanks to Hangai san and Miyuki san for the support, to Tsuji from airpark coo for the impeccable organization, and to Okada and Ogi for their passion for flying and teaching.

thumbnails