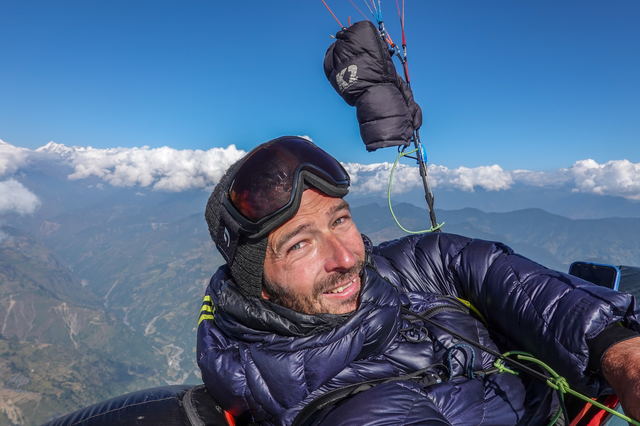 Interview: François Ragolski Manu Bonte (10914)
07 May 2023INFO | paragliding
Adventurer, world champion of acrobatics, APPI instructor.... François Ragolski tells us about his last incredible bivouac in the Himalayas and his paragliding school project "Glide Paragliding" with his partner Loraine Humeau.

🎙️ Can you tell us about your last adventure in the Himalayas ?

2580 km of flight between Tajikistan, Pakistan, India and Nepal. This adventure was marked by my passion for paragliding, unforgettable encounters and breathtaking landscapes.
I had flown a few parts of the Himalayas, in 2017 with my partner Loraine. We had done almost 500 km of bivy flight in India. In 2013 and 2021 I flown in Pakistan. Since my last trip to Pakistan, I dreamed of crossing the Himalayan mountain range by bivouac flight. It was an adventure that I wanted to live at the flight's pace, the encounters and the present time.
It started at the beginning of September from the Tajik capital and ended two months later at the eastern border of Nepal. A dream accomplished! It was sometimes difficult to believe in it, the weather was not always favourable. As the autumn progressed, the flying conditions weakened, with low ceilings and humidity, especially at the end of the journey.
Outstanding memories: A night meeting with a bear in Tajikistan, the hospitality and the smile of the shepherds and the mountain families. I will remember all my life the first flight of the adventure: stable, dusty, but finally 190 km along the Uzbek and Kyrgyz borders. It was my first flight in Tajikistan, and finally the tiredness due to the attitude forced me to land...

🎙️ APPI instructor since 2017, what motivated you to join us?

Many countries around the world were or still are unable to offer paragliders a structured training. APPI offers a turnkey system, international, and that's what I like about this organization. As for me, I have integrated it. The web platform offers incredible possibilities, it's very practical!

🎙️ You offer an original training with your partner Loraine, can you describe it in a few words?

Our magic formula is to bring our students to a place where the volume of practice is unmatched: Iquique in Chile! After more than 10 years of teaching, Loraine and I have identified two problems: the lack of practice volume and the inability of new pilots to practice back home due to lack of equipment. The learning process can be broken down into three phases: discovery, assimilation and acquisition. For a student to acquire new pilot skills, he needs a certain amount of practice. For that, the weather factor is a determining element: even with a great teaching team and a long period dedicated to paragliding, if the weather is not favourable, it is complicated to train pilots.
Our solution: go where the weather is perfect every day and offer a total immersion in the paragliding community 24 hours a day for 15 days. The Iquiqué site is a dream tool for any teacher and allows to accompany the progressions for all levels of pilots.
As far as equipment is concerned, if we want future pilots, they need adapted equipment that will be able to accompany them in their progression. Our solution is simple: our "beginner" formula includes the equipment (wing, harness, reserve, helmet and radio). It's an "intense" formula that pays off: in about ten courses, all our students have continued to fly. See the testimonials on our website http://www.glideparagliding.com.

thumbnails