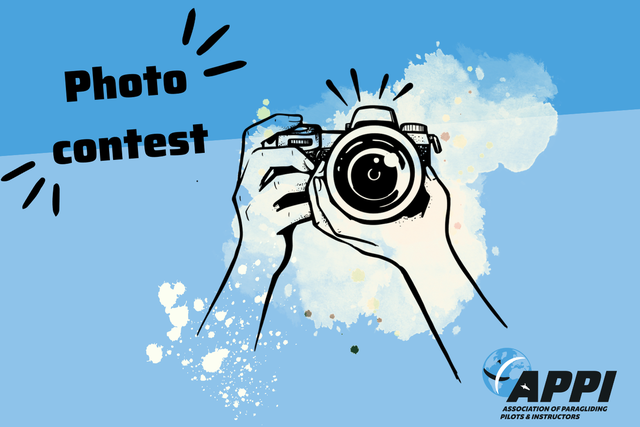 Photo contest APPI Manu Bonte (10914)
07 May 2023INFO | paragliding
Do you have a keen eye for capturing the magical moments we experience while flying? Then the APPI photo contest is for you!

Share with the APPI pilot community a picture that shows why you fly, what motivates you, your dreams, and your challenges. Whether it's an epic sunrise over the mountains, a breathtaking descent in the Alps, a soaring session with birds, or just a relaxing and contemplative moment in the clouds, send us your best shots.

The first prize is an APPI hoody, perfect for keeping you warm after a day of flying. The second and third prizes are APPI t-shirts, giving you a casual and stylish look.

So, are you ready to light up the APPI Insta with your paragliding photos? Submit them to news@flyappi.org
Deadline for submission: june 15th 2023
Photos will be posted on the APPI Insta and the winner will be determined by the most votes from the public.
The end date and time for the contest and vote counting is: july 15th 2023 12hUTC
Rules and regulations can be found below.



Here are the general terms and conditions of the APPI photo contest:

1. The contest is open only to members of the association. (https://flyappi.org/join_us/ its free!)
2. Participants will submit one or more photos on the theme set by the association. The photos must be copyright-free and owned by the person submitting them.
3. The theme is as follows: Any picture related to the life of a paraglider. A paragliding flight, a take-off, a landing, an APPI workshop...
4. Participants agree that their photo(s) may be used by the association for promotional purposes or posted on social media.
5. The photos will be pre-selected by the contest organisers, and then submitted to a vote on Instagram. The three photos with the most views will be selected.
6. The first prize for the winning photo is an APPI hoodie, and the second and third best will receive an APPI t-shirt. Size and color of their choice.
7. The result of the contest will be announced to all participants on social media and on the APPI website.
8. Participation in the contest implies the unconditional acceptance of the above participation conditions.
9. The association reserves the right to cancel or modify the contest if circumstances require it.

thumbnails