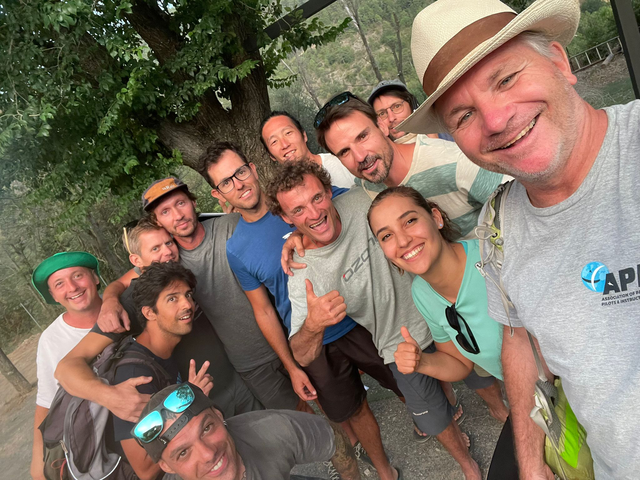 Workshop report August 2023: Good vibes in Organyà Manu Bonte (10914)
03 September 2023INFO | paragliding
TANDEM Pro-workshop, Organyà Spain, August 17-23, 2023

A high-profile Tandem Pro-workshop was held in mid-August in Organyà. The result of joint work with the RFAE (Real Federación Aeronáutica Española), it lays the foundations for future collaboration.


Organyà "the magic mountain" needs no introduction. The flagship site of the acro scene, it proved to be particularly well-suited to the exercise: ultra-rapid rotation between flights, relatively technical take-offs in both nil-wind and established conditions, and active conditions at landings.
The ease with which it mas possible to gain altitude compensated for the low height of the site, and enabled to carry out the examination maneuvers in complete safety.

The classroom provided by the "Organyà Park" campsite was well suited to the size of the group. The severe heat wave put the air-conditioning in the classroom to the test, and made for selective flying conditions during the final evaluations, especially for the approach and landing. Fortunately, the nearby swimming pool kept the neurons at an ideal operating temperature.

The staff was made up of Master Instructor Manu Bonte (France), assisted by instructor Vicente Alem (Bolivia) and by Walid Abuhaidar (Lebanon).
As ever, the APPI workshop attracted a cosmopolitan audience of pilots from or working on different continents: Spain, Chile, Argentina, Tunisia, France, Turkey and Switzerland.
The participants' eagerness to update their knowledge is to be commended: many of them already held a national professional certification. The latest developments in the APPI platform gave them the opportunity to prepare optimally before the seminar.

During the tandem workshop, essential and advanced knowledge was shared.
Four main topics:
-Equipment and materials from the point of view of ageing control and airworthiness assessment.
-Aerodynamics and piloting: evolution of paraglider design and consequences for piloting,
-Weather (advanced forecasting), safety, emotional control, performance and regulations,
-Tandem flying: safety techniques and procedures.

In conclusion, it's worth highlighting the excellent atmosphere of this workshop, led by two paragliding legends, Raul Rodriguez and Horacio Llorens. Commitment, concentration, humility and high skills, the hallmarks of champions.
Many thanks to all participants. Their enthusiasm and professionalism made this moment of sharing a special occasion.