Safety warnings
SAFETY WARNING – PANORAMA 41
Following an incident early September in Beirut, Lebanon. A pilot and passenger flying a Flow Panorama 41 experienced failure of the center A line attachment points, pilot and passenger landed in water, shaken but safely.

Download more details
SAFETY CRITICAL ALERT : TANDEM SPREADERS
The BHPA has just been made aware of a tragic accident that occurred in France on 14th July where the pilot and passenger of a tandem paraglider were killed when the spreaders broke at the connection point with the glider, leading to the complete separation of the pilot and passenger from the wing. The report from the French Federation FFVL (link in French) suggests that the age of the spreaders was probably the cause of the rupture. The FFVL recommends that all tandem pilots check the condition of their spreaders, or have them inspected by a professional. They should be replaced if there is visible wear or damage, if they have had 500hrs use, or if they are more than five years old.
The BHPA FSC recommends all of its members who fly tandem paragliders to take heed of the FFVL's advice concerning spreader checks and replacement, and reminds pilots of the importance of regular condition checks on all of their tandem equipment. As the incident occurred very recently, further safety information may be published as the investigation progresses.
This notice has been posted on the BHPA website and on its Facebook page.
SAFETY CRITICAL ALERT : RUPTURE IN FLIGHT OF THE MAIN CARABINERS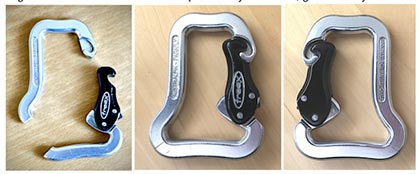 In 2018, 3 accidents were caused by the rupture in flight of the main carabiners on solo and tandem paragliders.
In 2019, one carabiner rupture during ground take-off phase, and begining of 2020, a new failure in flight occured on solo paragliders.
It turns out that one of the accidents involved a Chrome_Zicral_Austrialpin-Parafly automatic carabiner, two of the accidents involved 40mm_Zicral_Camp automatic carabiner distributed under the brand Woody_Valley.
These carabiners had more than 500h of "cross & thermal" flight and were used in solo paragliding, the most recent being 3.5 years old.
Expertises carried out by different laboratories confirmed the same type of brittle fracture, as end of fatigue crack propagation occurence.
Bright Chromium Surface Austrianalpin-Parafly carabiners had already been grounded on 12/14/2001 by DHV (Deutscher Hängegleiterverband e.V).
Following the last event, the 40mm-Zicral-Woody_Valley-Camp carabiners were prohibited from flying on 01/09/2020 by LAA-SR (Letecká Amatérska Asociácia - Slovenskej Republiky).
After analysis of available public documents, products derived from the Camp40 carabiner (Gin40, Niviuk40; Air-Xtreme40; and by extension Kortel40; Dudek40…) should also be very sensitive to this phenomenon of fatigue crack propagation. 05/28/2020, the FFVL published a security alert.
As a safety precaution, users are advised to inspect this equipment in detail in accordance with the maintenance guidelines published in December 2019 and to reform it case of doubt about the state of use.
Read here.
Download here.
SAFETY CRITICAL ALERT : Woody Valley XR7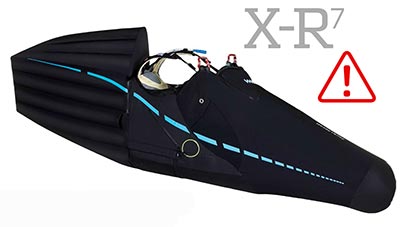 19 months ago we released our safety note 01/2018 regarding the abnormal overextension of the XR7 rescue compartment elastic loops potentially leading to a rescue deployment failure. We've found out that if the knots at the base of the elastic loops aren't well tight then the elastic loops overextended so we've replaced all the knots with sewed end stubs thus preserving the correct length of the elstic loops.


Inspection:
Open the long magnetic edge that covers the closing elastics of the rescue chute container and remove the metal pin connected to the rescue handle.
Make sure the white elactics can untie and don't get entangled with each other.
More information: here.
SAFETY ALERT : TANDEM GLIDER SUPAIR SORA 2 size 42 - ATTACHMENT POINTS RUPTURE
Sunday the 27th of October, 2019 at Doussard (Haute Savoie, FRANCE) a pilot and his passenger flying
with a SUPAIR SORA 2, size 42m2, experienced an incident in standard flight incurring the rupture of
several attachment points on the A lines. The pilot in question threw his reserve and thanks to a cool
head and good instincts there were no injuries.
The company involved which provided the tandem service is known to be serious and professional.
They have used our tandems -the SORA 1 and SORA 2- for 6 years without incident.
The glider in question had been used approximately 500 times in normal flight conditions.
This incident has occurred one month after a previous incident of similar description,
with the same model of glider, with a pilot from another company.
Our investigations, involving and lead by the swiss laboratory Air Turquoise, gave no indication
of a particular structural flaw. We intend to look deeper in order to understand what has happened so
as to find out if this is merely coincidental circumstances, or if it has as origin a specific problem.
While this investigation is underway and while waiting for the conclusions,
which we will divulge to you completely, we ask that all pilots stop using the SORA 2 size 42.
We are fully aware of the difficulties which will be caused by this request, but in the case of the most
minor doubt in what concerns safety it is the principle of precaution above all else which must be
respected. Rest assured that we will search for a resolution as rapidly as possible in order that you
may fly and work serenely and in total confidence with your SORA 2 glider.
More informations here.
SAFETY ALERT : Safety Notice Quick-Out Carabiner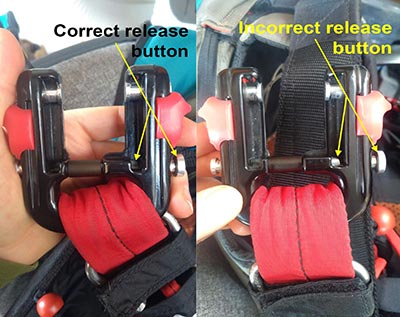 The picture on the right shows a Quick-Out carabiner with a faulty mounted release button.
When setting up the production of the Quick-Out release buttons in January 2015, about 20 release buttons of one side were produced incorrectly. Some of these release buttons were accidentally mounted and at least one such faulty Quick-Out carabiner was put into circulation. The error eliminates one of the 4 security levels: To open the carabiner, it is sufficient to press only the correct release button instead of pressing both release buttons simultaneously.
At the final inspection, every single Quick-Out carabiner undergoes a load test of 2,000 DaN.
However, the error was not noticeable, since the stress test is also passed with only one release button intact.
If the Quick-Out is operated in accordance with the current version of our operating instructions, which are available for download on our homepage, the error will be noticed immediately. There it is described that the insert of the Quick-Out must click into place by strongly pressing it down (without
pressing the release buttons simultaneously). A faulty release button prevents this.
We urge all Quick-Out users to check the carabiners before the next use.
We have introduced additional testing procedures for the final inspection of the Quick-Out carabiners to reliably prevent such errors in the future.
Link to download the operating instructions: finsterwalder-charly.de/en/downloads.html
Finsterwalder GmbH • Pagodenburgstr.8 • D-81247 Munich
Phone: +49 89 8116528 • Mail: office@finsterwalder-charly.de • www.finsterwalder-charly.de
SAFETY ALERT : NEO BODY HARNESS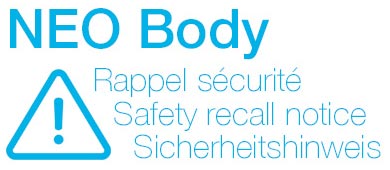 This safety notice applies to the Body speedriding harness only.
It does not apply to the Body Picture 1.0 or 2.0.
A series of occurrences or incorrect handling can in very exceptional cases trigger an unintentional opening of one of the two leg straps of the Body harness.
This phenomenon appears to be linked to the ageing of the harness and softening of fabrics.
Unintentional opening of the buckle cannot happen under tension when it is properly fastened.
Nonetheless as a result of improper or inadvertent handling, the buckle can flip around into an insecure position.
To this day no accident has occurred as a result of this issue. However, in order to ensure appropriate user safety, NEO invites owners of a Body harness with a serial number included in the following list to return their Body harness for modification:
- between B3004 and B3008
- between C3009 and C3191
- between C3234 and C3235
- between D3192 and D3233
- between E3236 and E3264
- between G3266 and G3268
These harnesses were produced between 2015 and 2019.
It is requested that affected harnesses are sent to NEO (ZA des Vernays, 74210 Doussard, France) or owners can contact their local dealer.
A modification eliminating associated risks will be made within a short period of time.
SAFETY ALERT : OZIUM HARNESS
This Safety Notice affects All Original Ozium Harnesses (not the new Ozium 2).
We have had reported a case of failure during a simulated tyrolean deployment. The pins on the reserve deployment handles of all original Ozium harnesses may have been damaged during production. The damage, if present, may result in the pin breaking during deployment causing the reserve compartment to remain closed even if the handle is released. As the breakage is in an area hidden from view we are replacing all reserve handles as a precautionary measure.
Action required: Mandatory Replacement of Reserve Handle.
The reserve deployment handles on all Original Ozium harnesses should be replaced before next use. Please contact the dealer who sold you your Ozium harness to request a replacement handle. Replacement (GOOD) handles are clearly marked with blue bartacks. If your reserve handle has the blue bartacks, it has been replaced and is ok to fly. If the reserve handle does not, then it must be replaced. Please see photos at right.
For any questions regarding the replacement of the handle, please contact your local OZONE Dealer or Contact Ozone directly.
SAFETY ALERT : Supair leaf tolerance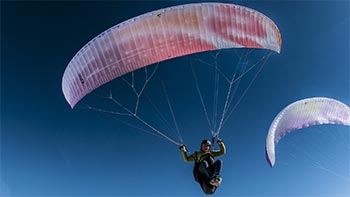 SUPAIR LEAF (standard version) "A" and "C" line settings.
A few LEAF were produced with a slow flying configuration and to the maximum allowed for certification approval tolerance.
Concerned products or affected products: LEAF in all sizes: XS, S, M, and L.
Note: that LEAF-LIGHT is not affected.
Problem description: Parachutal phases were observed on a few manufactured "Leaf" while pulling "Ears" in non-accelerated flight mode - the wing will come out of the parachutal phase as soon as the "Ears" are reopened.
More information here.
SAFETY ALERT : Exoceat harness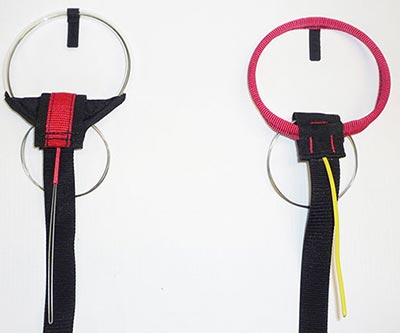 This notice affects all Exoceat harnesses manufactured before November, 2017.
We have been made aware of a potential safety issue with the Exoceat reserve handle. If the metal pin becomes fatigued due to repeated bending while packing the harness, there is a possibility that the handle could break during extraction.
Action required: Mandatory replacement of all Exoceat reserve handles.
The reserve deployment handles on all Exoceat harnesses should be replaced before next use. Please contact your dealer to request replacement handles.
The correct replacement handles are coloured red, if your reserve handles are made from transparent plastic then they must be replaced before your next flight.
For any questions regarding the replacement of the handle, please contact your local OZONE Dealer or Contact Ozone directly.
SAFETY ALERT: Charly Carabiner

On 15 November 2016, the faulty assembly of a Quick‐Out carabiner lead to its accidental opening.
The pilot had dismounted both of the Quick‐Out's release buttons and later re‐installed them in swapped positions.
Click here for more information.
SAFETY ALERT: Accidental opening of the ventral automatic buckles in flight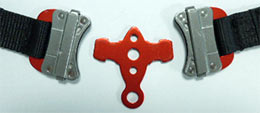 Unwanted openings with automatic ventral aluminum buckles were observed in flight on some SUPAIR harnesses.
For more infos click here.
SAFETY ALERT: Finsterwalder CLICK-LOCK and T-LOCK buckles in the chest strap


there have been two incidents involving older paraglider harnesses equipped with CLICK-LOCK buckles (HSi10) in the chest strap.
The buckles had opened unintentionally during flight while they were under load.
The hooks of the metal tongue can wear out through the frequent diagonal load changes the chest strap is subject to.
Finsterwalder calls on all owners of harnesses equipped with CLICK-LOCKs (HSi10) or T-LOCKs in the chest strap to determine their buckles' previous usage time by checking the routine test date.
SAFETY ALERT: Unsheathed upper cascade lines on Ozone Alpina 2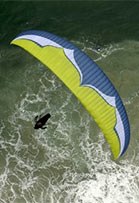 Lines becoming knotted and tangles in flight whilst the glider was flown in big-ears mode with the speedbar being operated.
This incident occured when the lines were dry and in good condition.
Pilots are urged to be vigilant about this issue, and visually check their gliders carefully after using big ears or after recovering from a collapse, especially when in accelerated mode with the speedbar.
Where possible the use of an alternative method to lose height is recommanded.
SAFETY ALERT: Rescue handles from Kortel design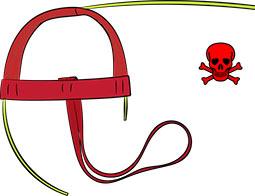 We invite all the pilots to check their rescue handle.
The harness's models are Karma II and Krashbox Module Kuik II
SAFETY ALERT: Potential problem on forged rings on the Kolibri harness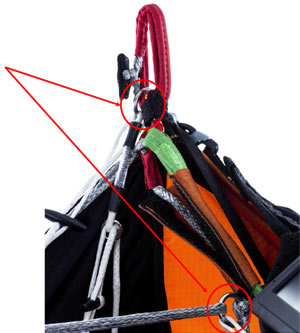 Description: A potential failure has been fund on the forged rings used on the Kolibri harness.
It may break under usual load.
There is no major risk because this ring is not used in the main structure of the harness.
In case of breaking, there is only the lumbar setting that is concerned.
Process to follow: Harnesses that can be concerned are those with the following serial numbers:
Size SM:

A1410-KL-M-10
A1410-KL-M-16
A1410-KL-M-21
A1410-KL-M-23
A1410-KL-M-24
A1410-KL-M-25
A1410-KL-M-28
A1410-KL-M-29

Size ML:

A1410-KL-L-1
A1410-KL-L-2
A1410-KL-L-3
A1410-KL-L-4
A1410-KL-L-5
A1410-KL-L-7
A1410-KL-L-26
A1410-KL-L-27
If you are concerned with these serial numbers, please contact Kortel Design at +33(0)9.50.10.73.27 or by email at info@korteldesign.com.
We will give you the process to follow.
Safety information: Carbon fiber seat plate inspection
What is the purpose of this safety warning?
We have noticed that a few pilots have been unknowingly flying with bro- ken or damaged carbon fiber seat plates, due to wear and tear, impacts, etc... Carbon fiber is very abrasive sharp; it could injure the pilot or abrade/ cut/damage the webbing and overall harness structural integrity.
Which product models could be affected ?
All harness models equipped or accepting carbon fiber seat plates.
What should I do ?
Check and inspect carefully your carbon fiber seat plate for damage once every 50 flights or once a year.
If the seat plate is damage in any way, it must be replaced immediately.
If the harness webbing is frayed or damaged in any way, it is imperative to contact your local Sup'Air dealer for advice prior using your harness again.

SAFETY ALERT Kuik II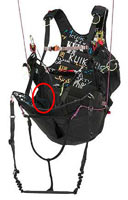 We have recently discovered a potential random manufacturing default in our Kuik II models, it is nothing serious but it is necessary for you to inspect your harness to ensure that everything is in order.
The problem observed is the following: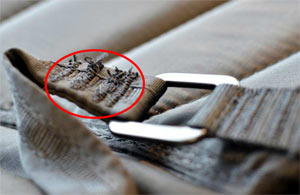 The lower part of the shoulder strap of the harness is connected to a metal buckle located at the "thighs - back" junction behind a small piece of protective neoprene. This buckle is used to connect two sewn straps.
There is no major security, problem since this strap has a multitude of connections within the harness and even in the case of rupture of this seam there is no risk of the pilot falling out of the harness or of the strap breaking upon the deployment of the emergency parachute.
However, a visual inspection of the seams on both sides of the buckle must be made in order to potentially detect the following situation :
There are 4 seams, but they fray easily and the thread can easily be removed with your fingers.
Recall harnesses GIN Gingo Airlite for inspection

Gin Gliders Inc. recalls the last model Gingo Airlite (released in 2012) to perform a precautionary inspection and check after a few months of use the harness is still consistent with our quality standards.
We ask owners of harness Gingo Airlite (Serial No. which the 3rd and 4th digits are "12". Exp xx12-xxxx) to contact their dealer for a return to a factory inspection.